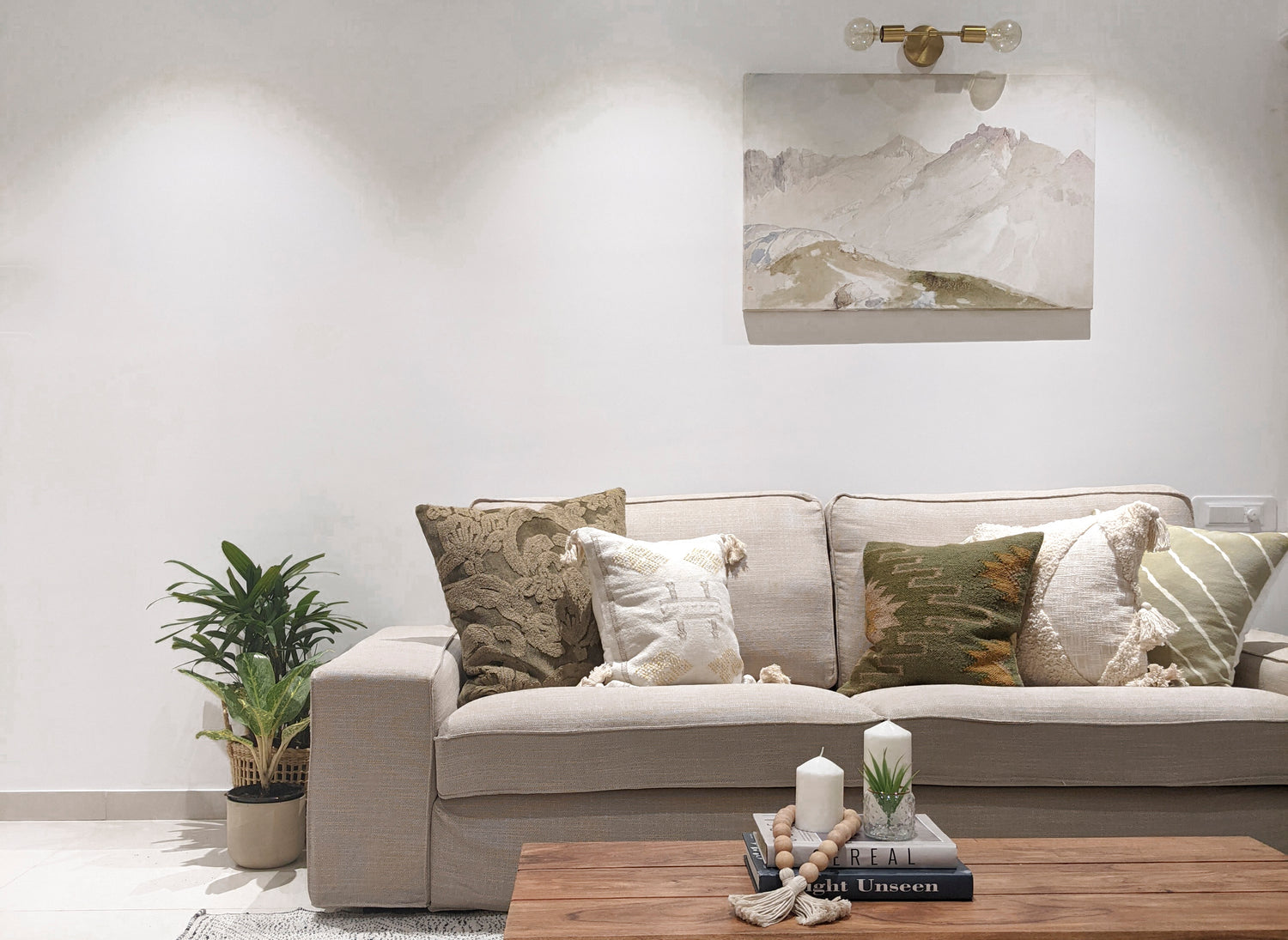 Codename Trademark
All the details from the 3BHK Show Apartment for Paranjape Schemes Construction Limited
"We, at Altrove, understand that first impressions can be lasting". Using a colour palette that agrees with every single element in a space, furniture that offers comfort and art that inspires creativity, we have designed these homes to be chic and luxurious while also being spaces that feel inviting and homelike. 
Ever wondered what could be a possible cure to the awkward empty space next to the door? A small console is an excellent remedy. Lucky for us, the console also doubled as a shoe cabinet. Since the console is simple and neutral it was only right that we add a little life to the setup through coffee table books, a lamp and a pastel vase with fresh flowers. A mirror at the entrance is always a good idea for when you're rushing in and out the door!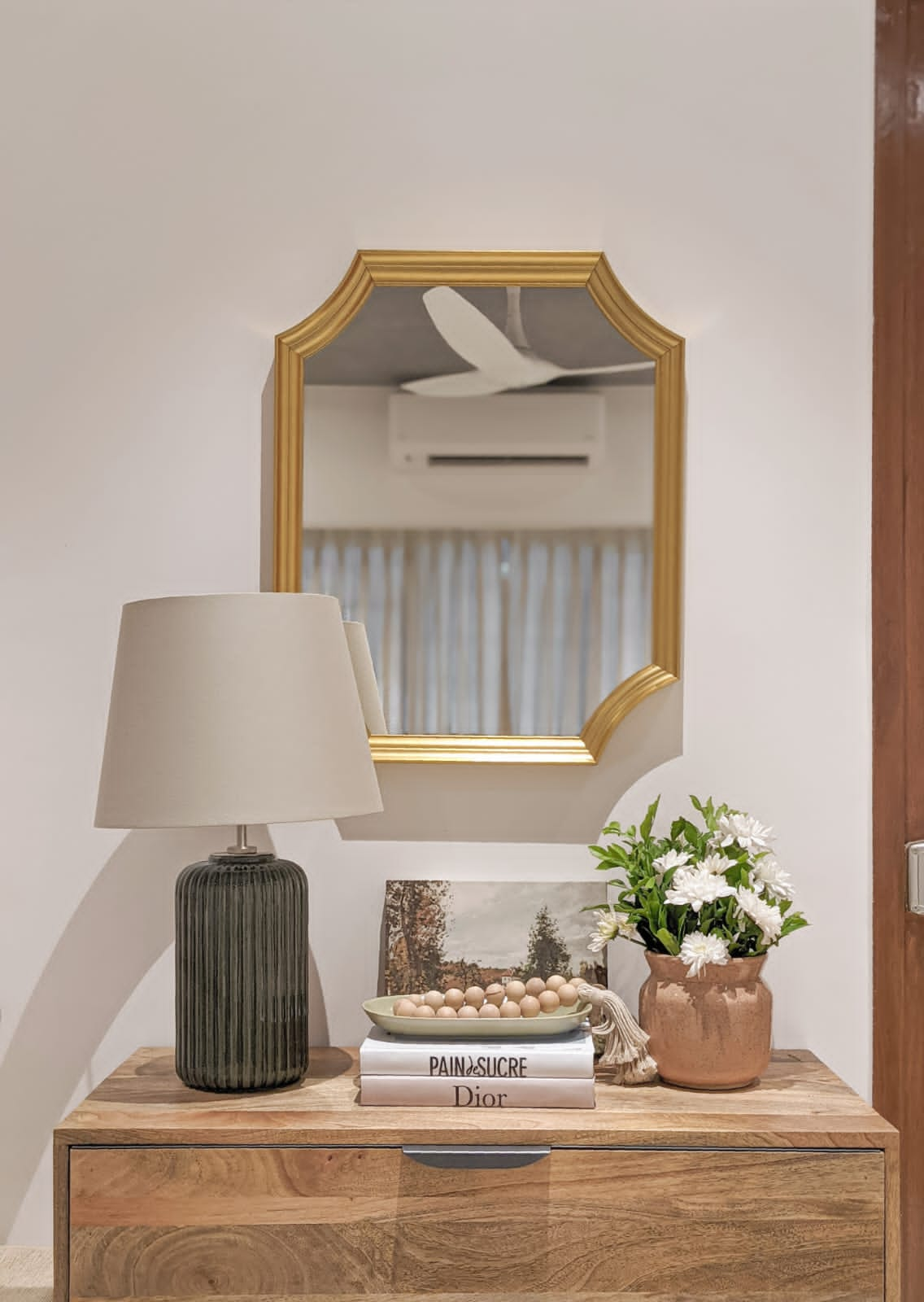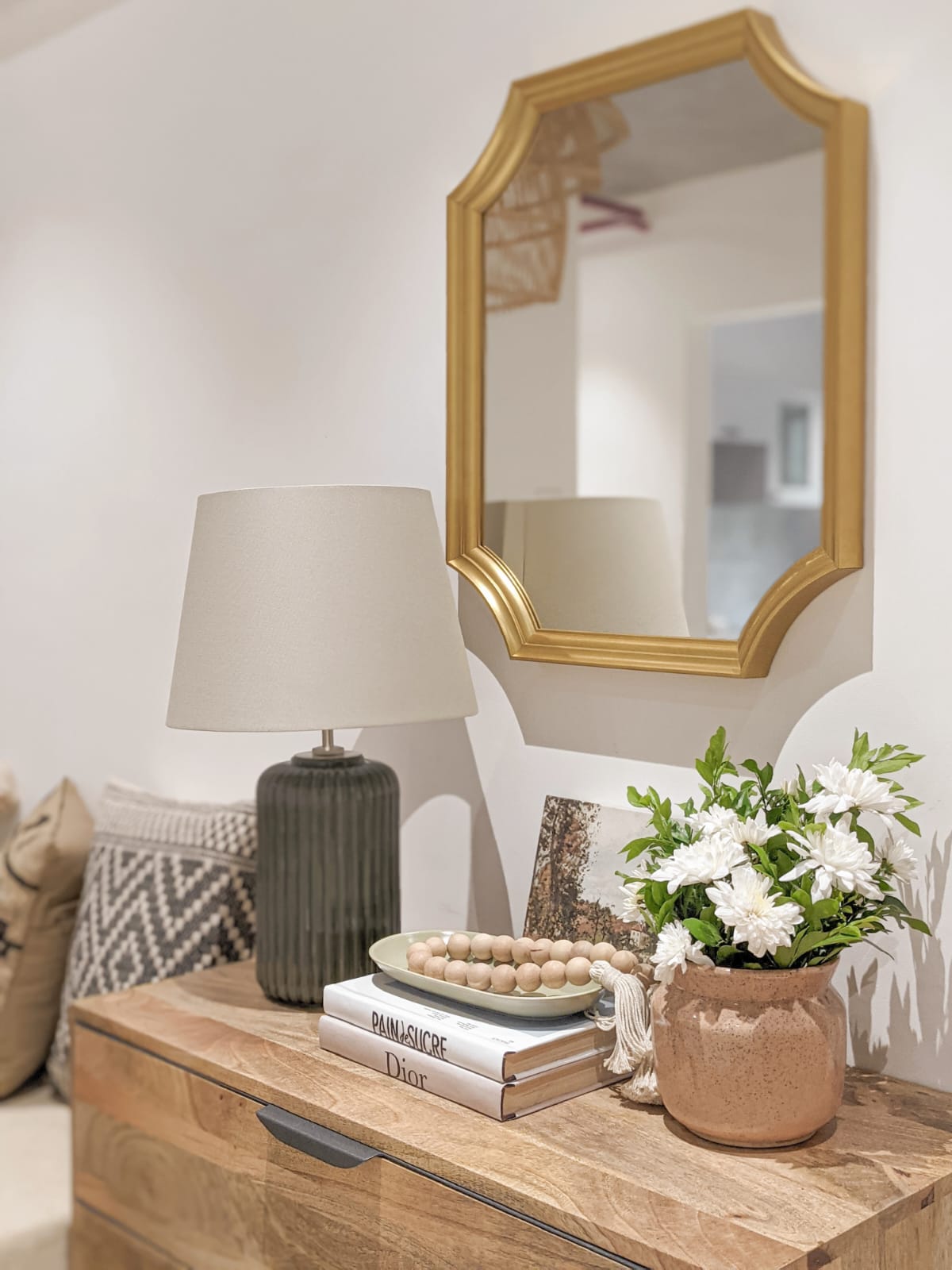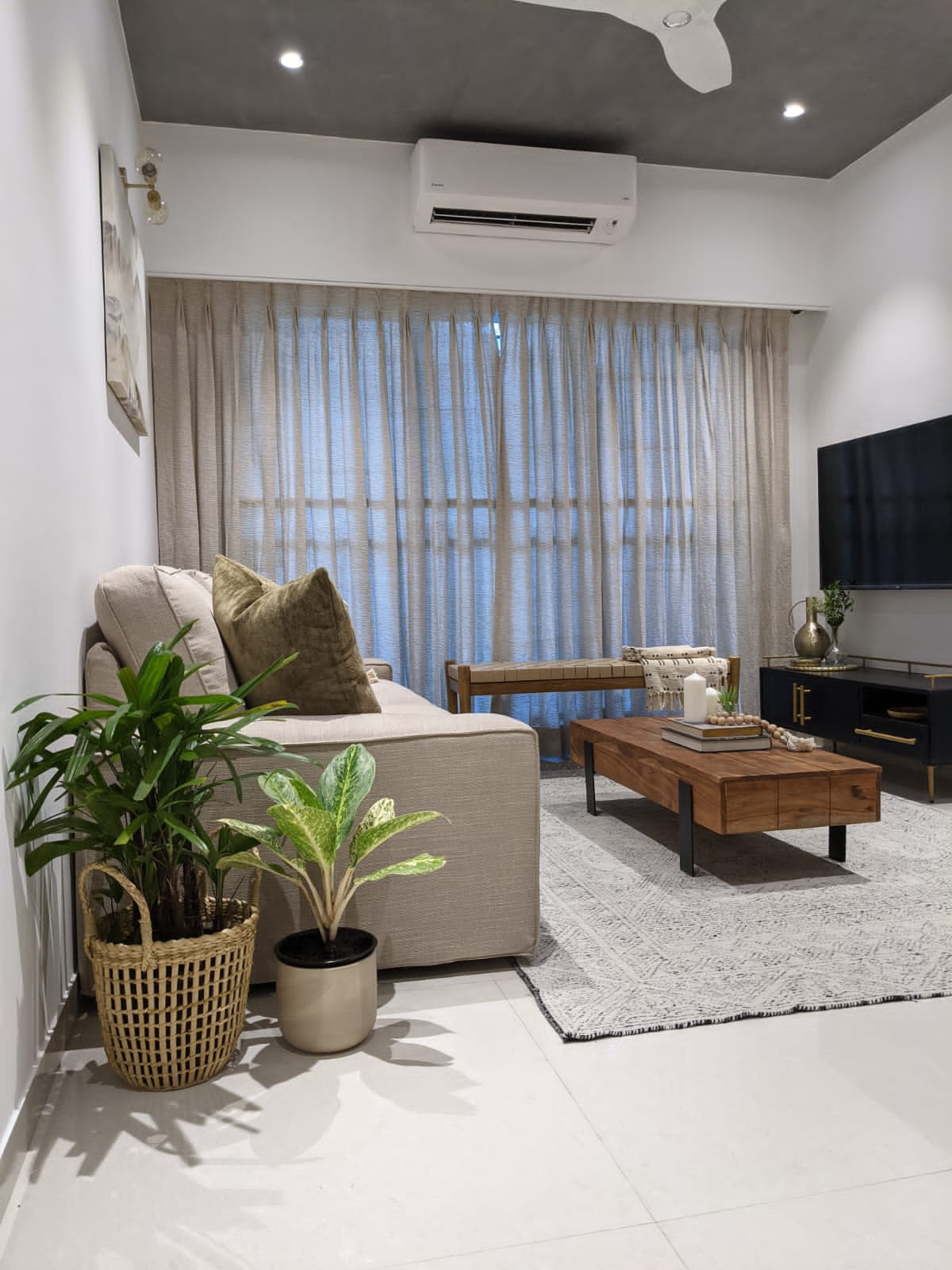 Love bare white walls? So do we! The living room was designed taking into consideration the limited natural light that was available to us. Using sheer beige curtains paired with a solid beige couch and earthy elements such as loose wooden furniture created a plain canvas to throw in more colour in the room in the form of a throw, plants, cushions and the gorgeous matte black console in gold accessories. However, the neutral rug is the real hero for pulling every element in this room together and making the space look chic but inviting at the same time. 
"Art doesn't always have to stand out. Using a work of art composed of colours and shades present in the various elements of the said space can add a touch of elegance to the room."
Regular price

Rs. 5,997.00

Regular price

Sale price

Rs. 5,997.00

Unit price

per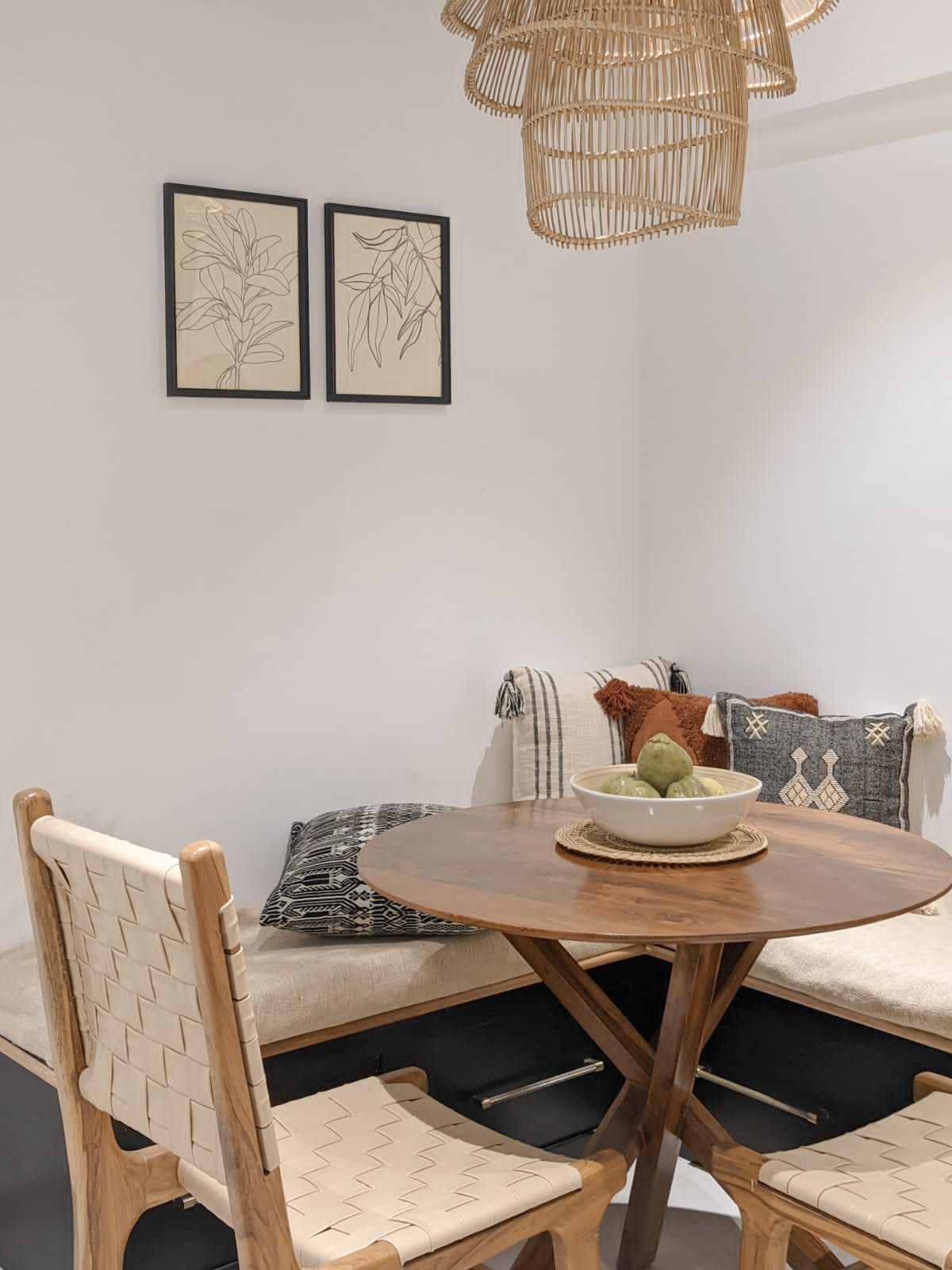 Fitting in a regular dining table in a small room would have just cramped the space even further. Which is why we avoided a bulky dining set and chose to create a dining corner instead, that could double as a breakfast nook as well. Complete with cozy cushioned seating on one side, a movable wooden table and braided leather chairs on the other. A fabulous ceiling lamp made in cane adds a much needed fun element to this tiny space. So what if nutrition is serious business? Your dining area doesn't have to be!
Anyone that finds cooking therapeutic, is probably cooking out of a kitchen that is similar to this one. Our pastel blue subway tile backsplash is a great contrast to the black granite counter ideal for Indian cooking. There's always room for a pretty corner in every space. 
Regular price

Rs. 2,397.00

Regular price

Sale price

Rs. 2,397.00

Unit price

per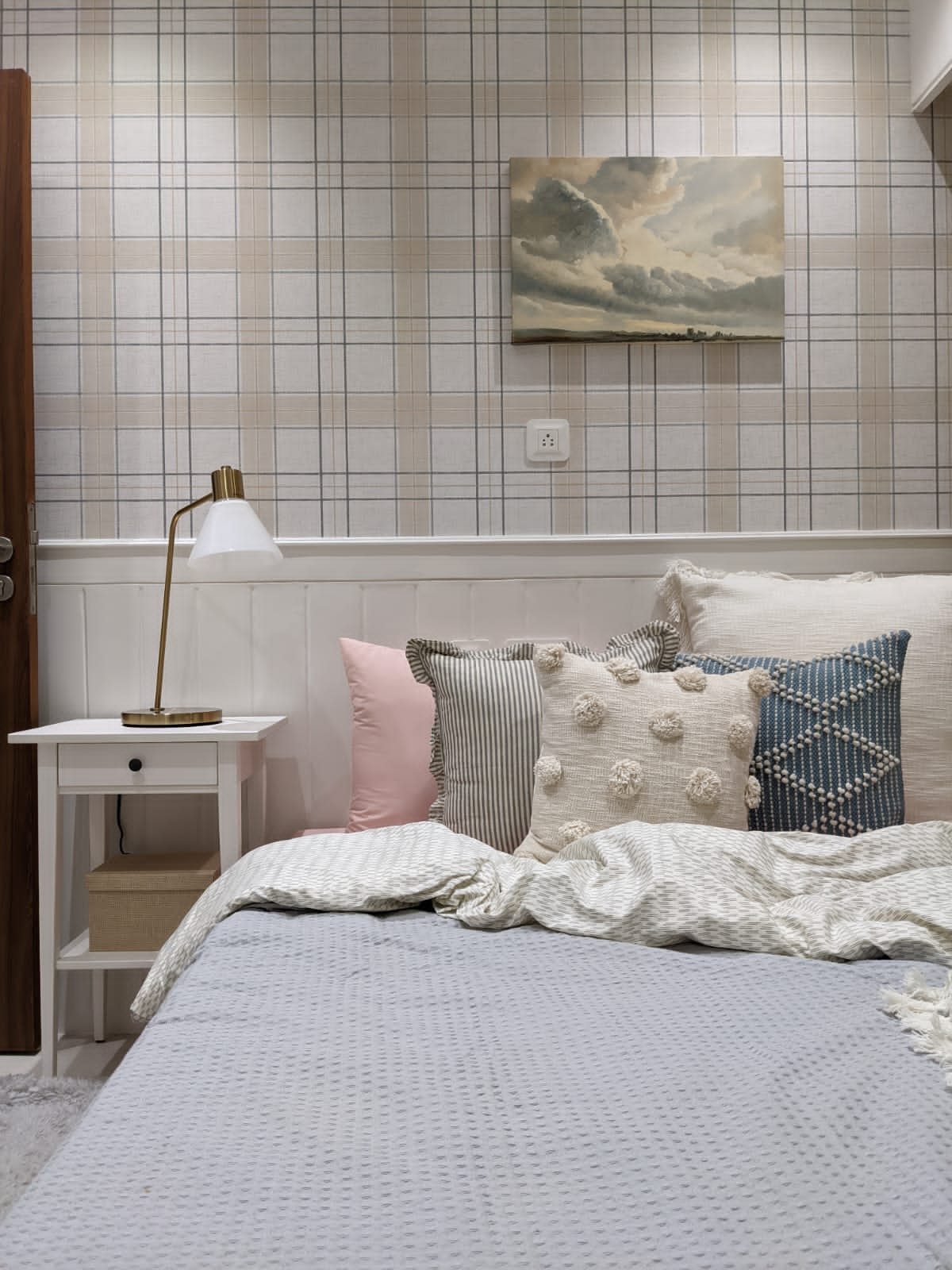 If only we had a nickel for every time a kids' bedroom walls were done up in vibrantly! We're here to break some rules. We covered the walls in neutral wallpaper in a pattern that's neither too childish nor too serious. That liberated us to use a vibrant colour palette for the rest of the room. In contrast to the white wainscoting, we used cushions and bedding in various patterns and colours to add a childlike, fun demeanour to the room.
The master bedroom walls are quite the contrast considering the colour palette of the rest of the house, while the panelling on the wall is limited to make sure it doesn't overwhelm. The wall art, side table and accessories as well as the bedding is all neutral with a pop of colour only the body pillow brings through to restore balance to the room.
Rattan is here to stay! It's strong, flexible and looks stunning. We paired it with the gold accent handles on the wardrobes and it definitely brought about the grounded harmony that we were looking to create in the master bedroom. It blends seamlessly with the rest of the elements and the colour palette of the room.
Regular price

From Rs. 4,497.00

Regular price

Rs. 0.00

Sale price

From Rs. 4,497.00

Unit price

per

Regular price

Rs. 28,470.00

Regular price

Rs. 0.00

Sale price

Rs. 28,470.00

Unit price

per

Regular price

From Rs. 2,397.00

Regular price

Rs. 0.00

Sale price

From Rs. 2,397.00

Unit price

per