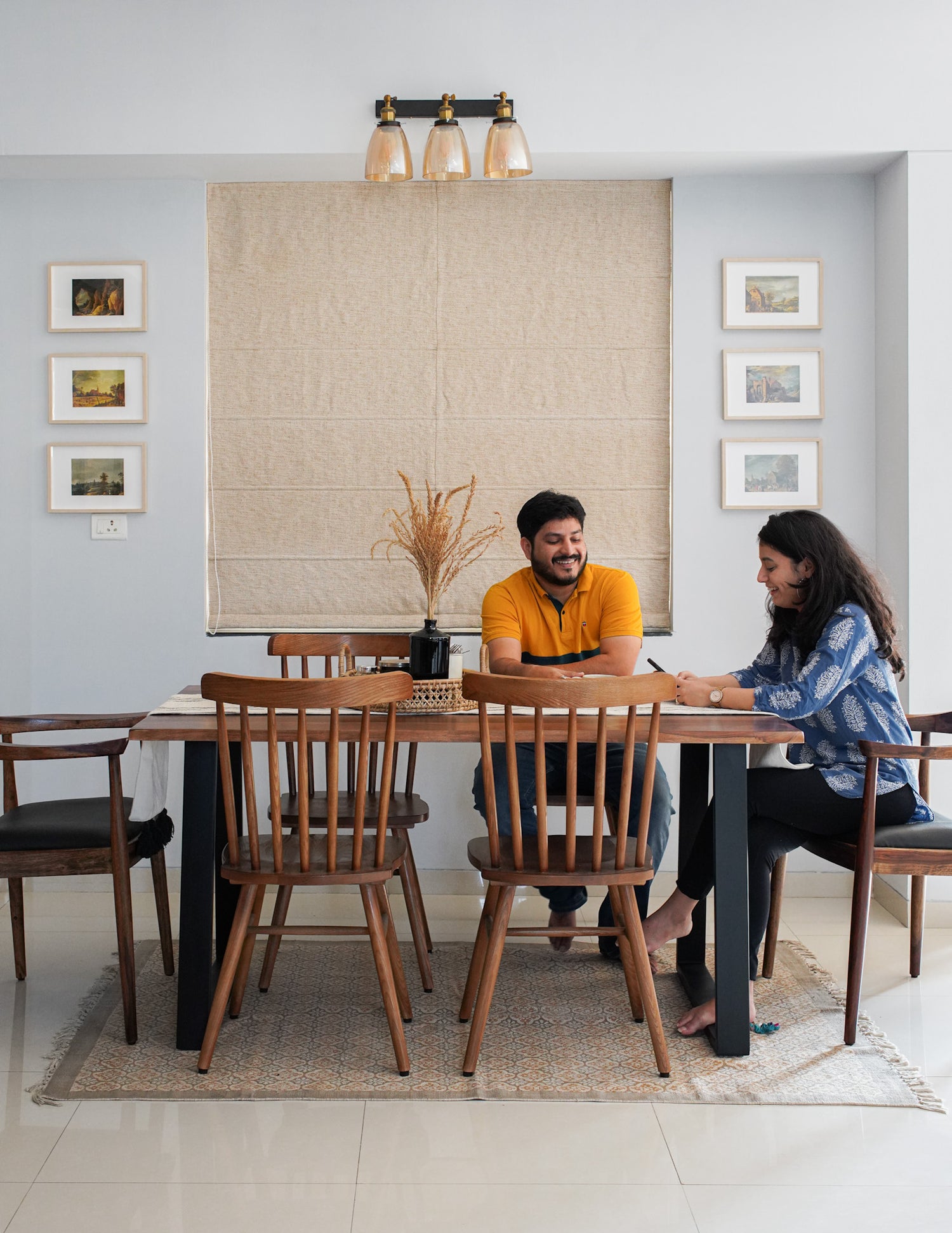 The Dhar Residence
All the details from the house that we turned into a home for Mr & Mrs Dhar.
"At Altrove, we realise how important a step it is for you to move into your very own first home! First homes are always very special because of how much thought we, as young adults, put into the move itself! It's pretty much like a dream come true!" Recently we had the pleasure of being a part of a similar journey. 
Keep the blues, but only for the walls! Since the space around the main door was small, we created a small nook with a shoe cabinet underneath. Nothing works as great as adding a couple of cushions, to create a cozy little space! We already had an accent wall, adding a canvas artwork to it was our easiest bet to allow both to stand out.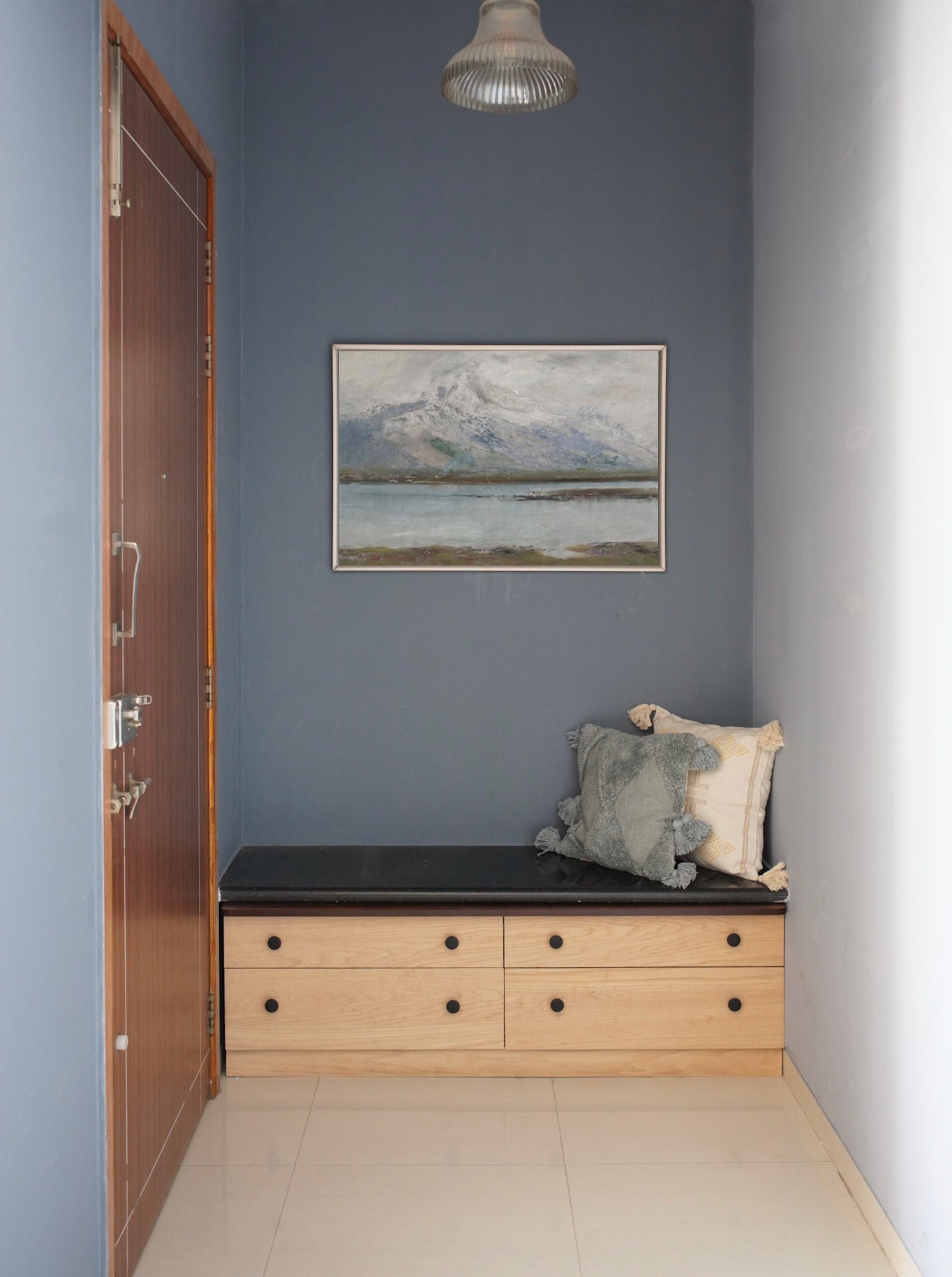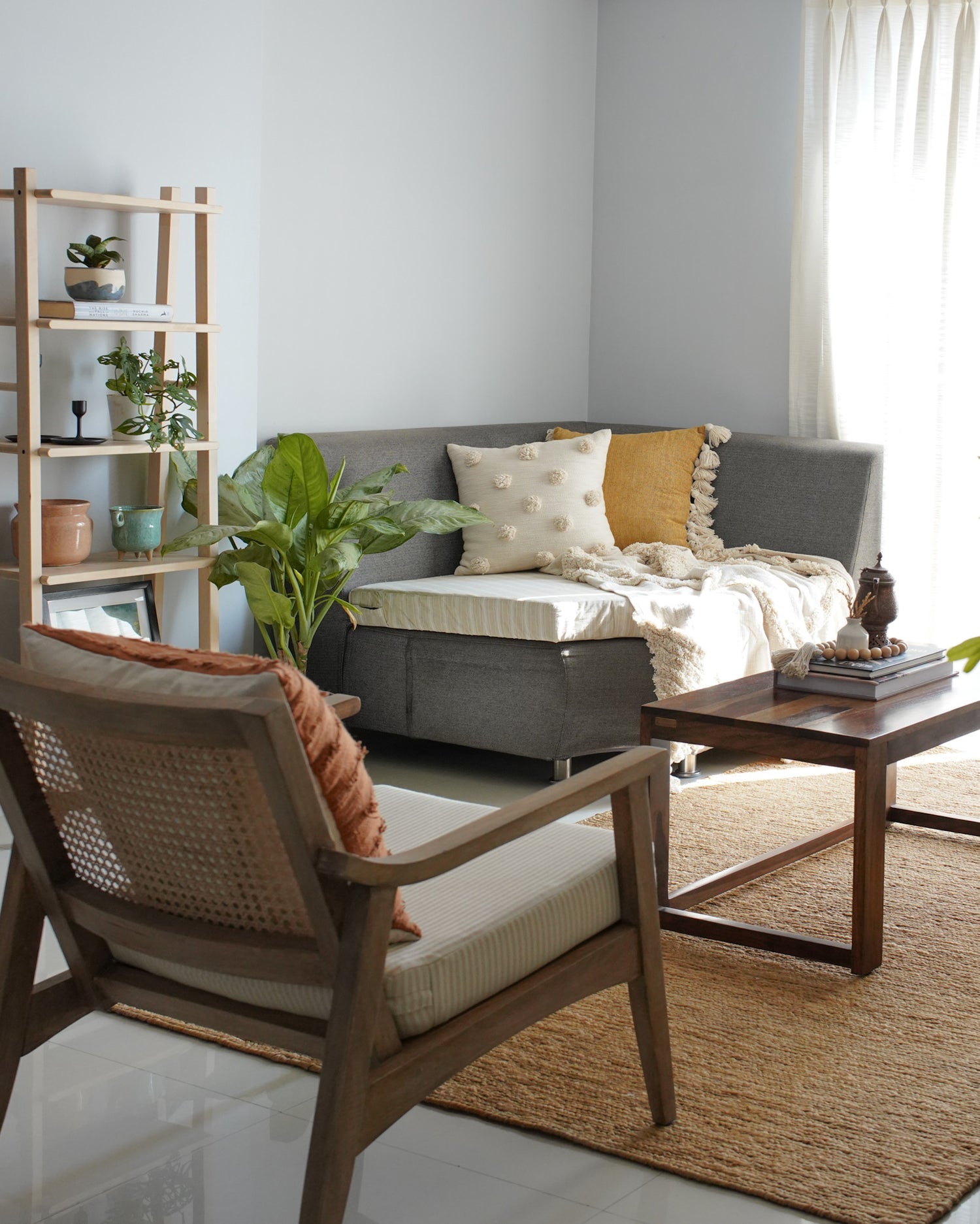 Living rooms must always look lived in, even if you just moved into a new space. We wanted to do justice to all the natural light coming in through those huge french windows, which is why we chose sheer ivory curtains to let it in, paired with dull grey couches on either side and wooden furniture to create a balance. Of course we scattered a number of bright cushions in various shapes, colours and patterns around the entire space coupled with a mustard rug to bring life to the living room!
It's all in the details! We kept it simple by adding a throw, a couple of coffee table books and a wooden beaded garland with an antique brass pot on the table. The open shelf was styled by placing tiny planters, and some photographs to add a personal touch. We added plants for a pop of green. Clearly, we don't ever miss out on a chance to add some kind of art to the walls! Even if it's as simple as these ones right here.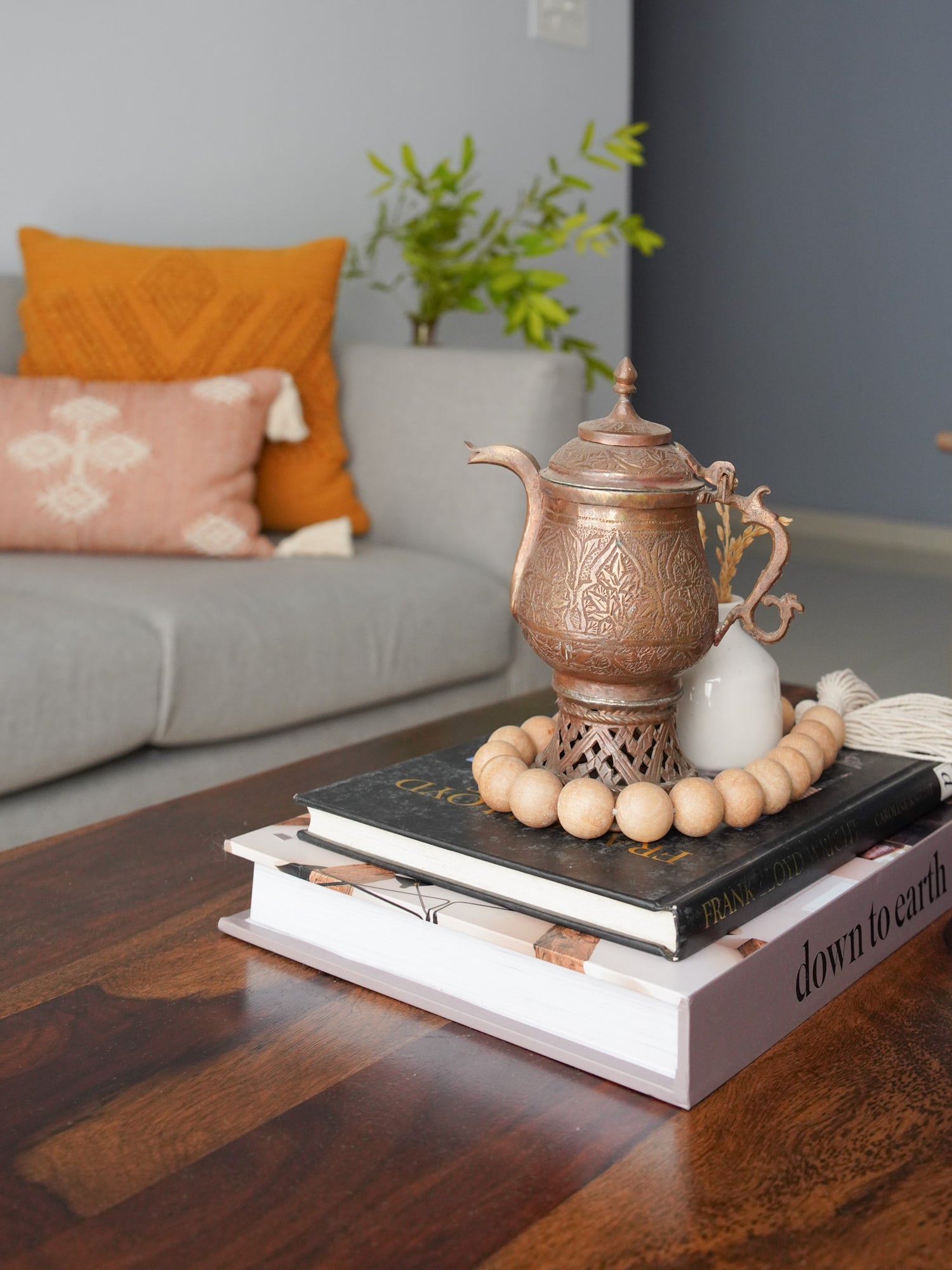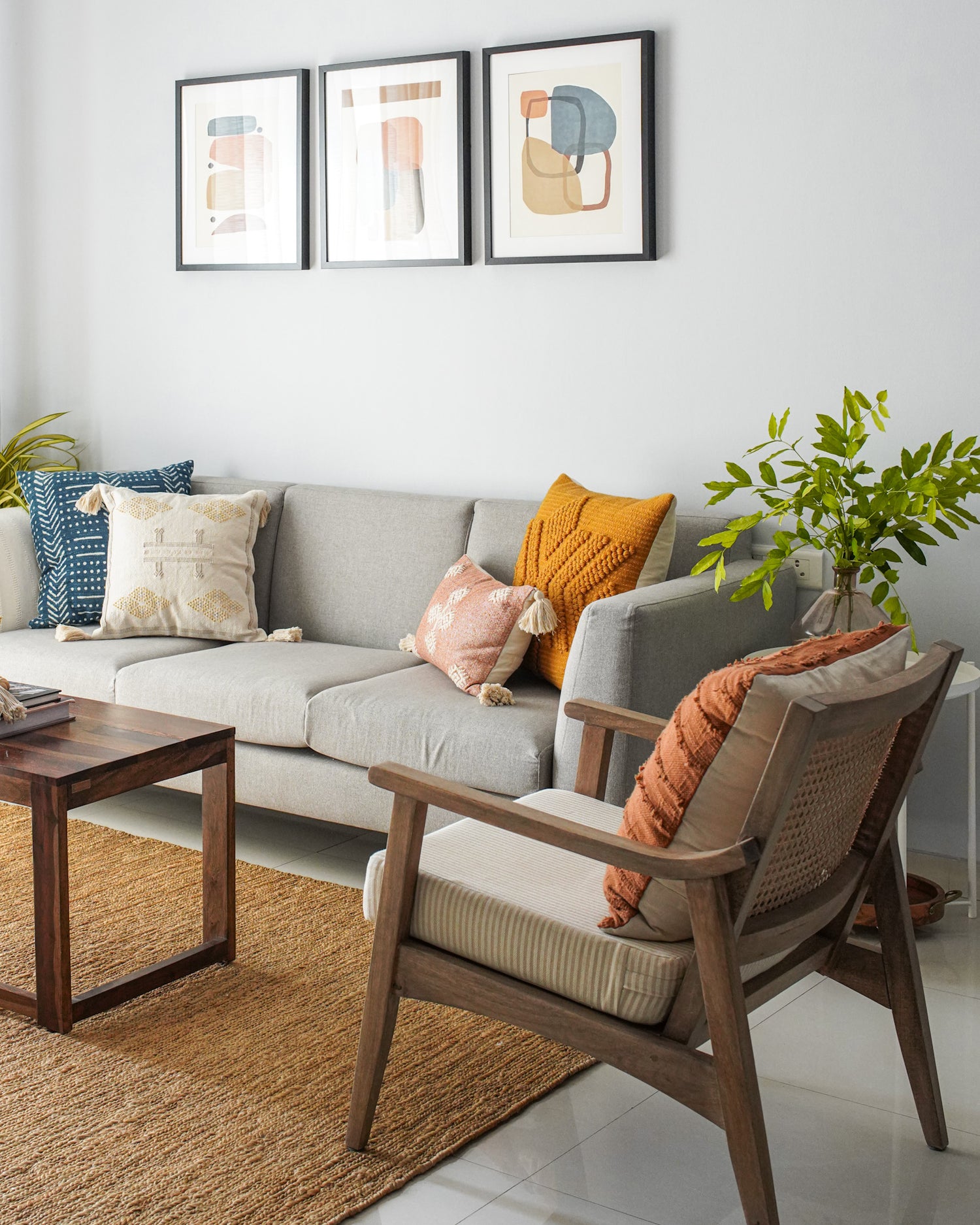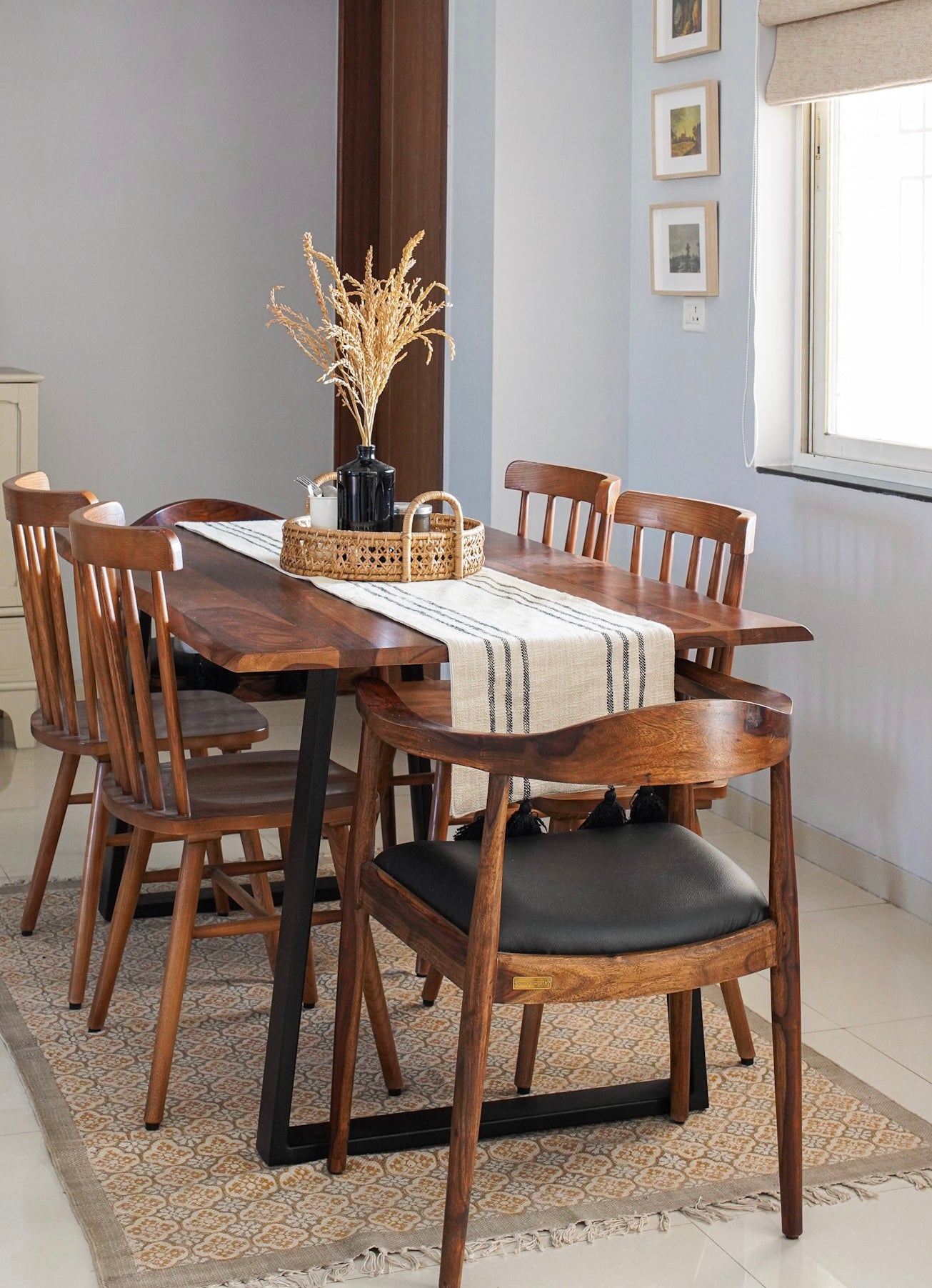 First homes usually end up being spaces where a lot of other first memories are also made! Since we had ample space, we chose this wooden four seater dining table for the Dhars' first home knowing that it would be perfect for all of their soirées, not just the first! We added a couple of different chairs to the ends of the table and turned it into a six seater instead because it helped us create a more intimate space and obviously we never leave a room without adding an area rug. Opted for these pretty wall lights instead of investing in an over the top chandelier and added the art in threes to complement the same. A table runner with a couple of table accessories and that's pretty much all it took to create this Pinterest worthy space! 
Shop the image
Regular price

From Rs. 3,750.00

Regular price

Sale price

From Rs. 3,750.00

Unit price

per
For the console at the end of the dining room, we grouped a few of our personal favourite decor pieces from Altrove . A clear vase with some fresh greens beside a canvas, a photoframe with a wooden bead garland and scented candle on a wooden platter. Simple but stunning!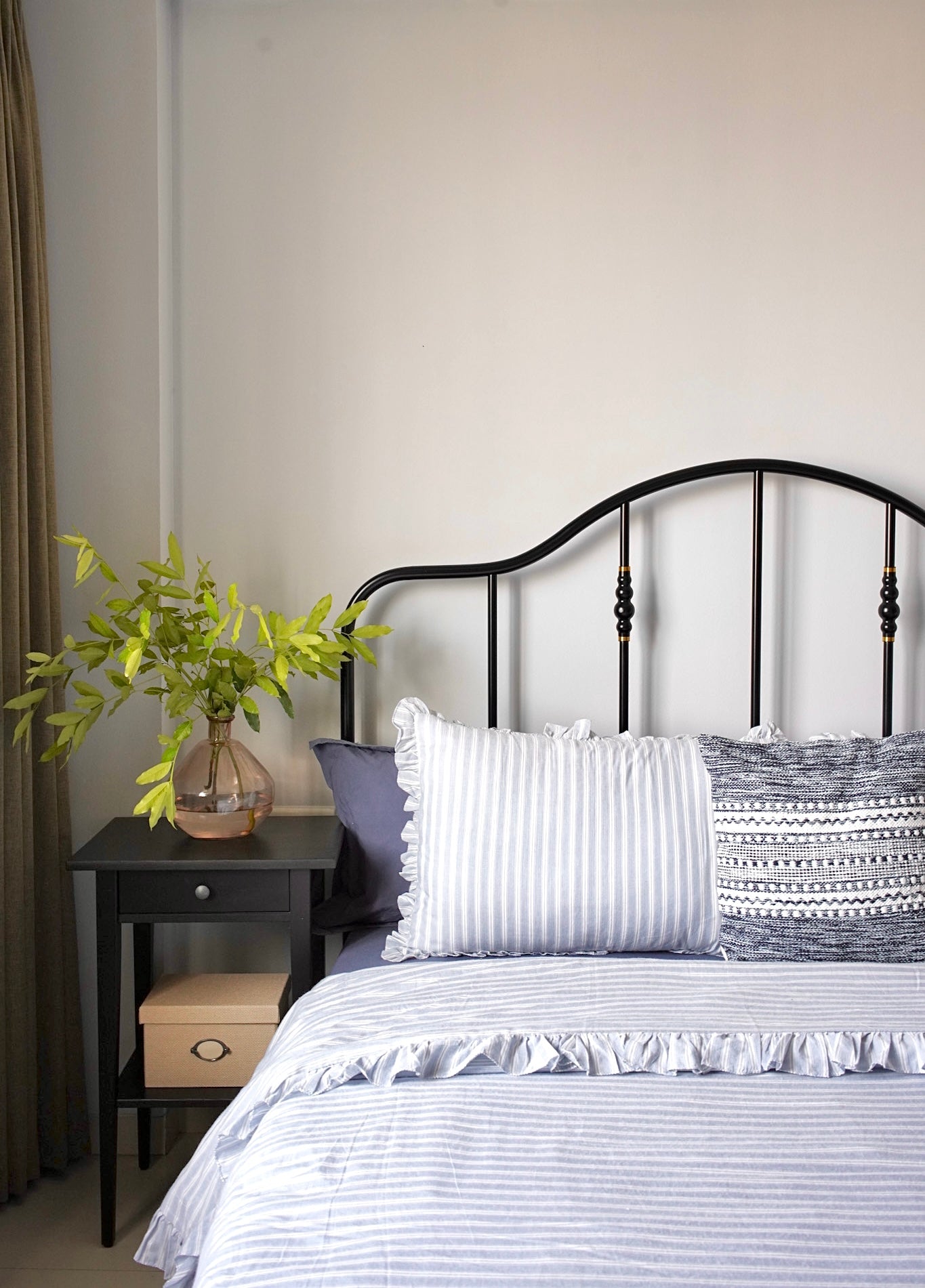 The Dhars' really only have themselves to blame, if their guests decide to overstay! A guest room this cozy might just make anyone want to stay a few days longer. We chose a classic bed frame with a delicately curved headboard and dressed it in striped ruffled bedding to make sure it turned into the statement piece that we had aimed for it to be, while also adding a little contrast by pairing olive curtains with a throw in the same colour!
Shop the image
Regular price

From Rs. 4,050.00

Regular price

Sale price

From Rs. 4,050.00

Unit price

per

Regular price

From Rs. 4,197.00

Regular price

Rs. 0.00

Sale price

From Rs. 4,197.00

Unit price

per

Regular price

From Rs. 4,197.00

Regular price

Rs. 0.00

Sale price

From Rs. 4,197.00

Unit price

per
Less is more! We accessorised the bedside cabinet minimally. All it took was a pastel coloured vase, a simple photo  frame, and this wooden platter with a tiny Buddha statue and an elegant perfume bottle to bring the look together. Keeping the rest of the room simple, all we did was add a white wardrobe to match the cabinet right next to the bed, and add a mirror next to the door to remedy the bare wall.
Shop the image
Regular price

Rs. 7,200.00

Regular price

Sale price

Rs. 7,200.00

Unit price

per

Regular price

Rs. 37,470.00

Regular price

Rs. 0.00

Sale price

Rs. 37,470.00

Unit price

per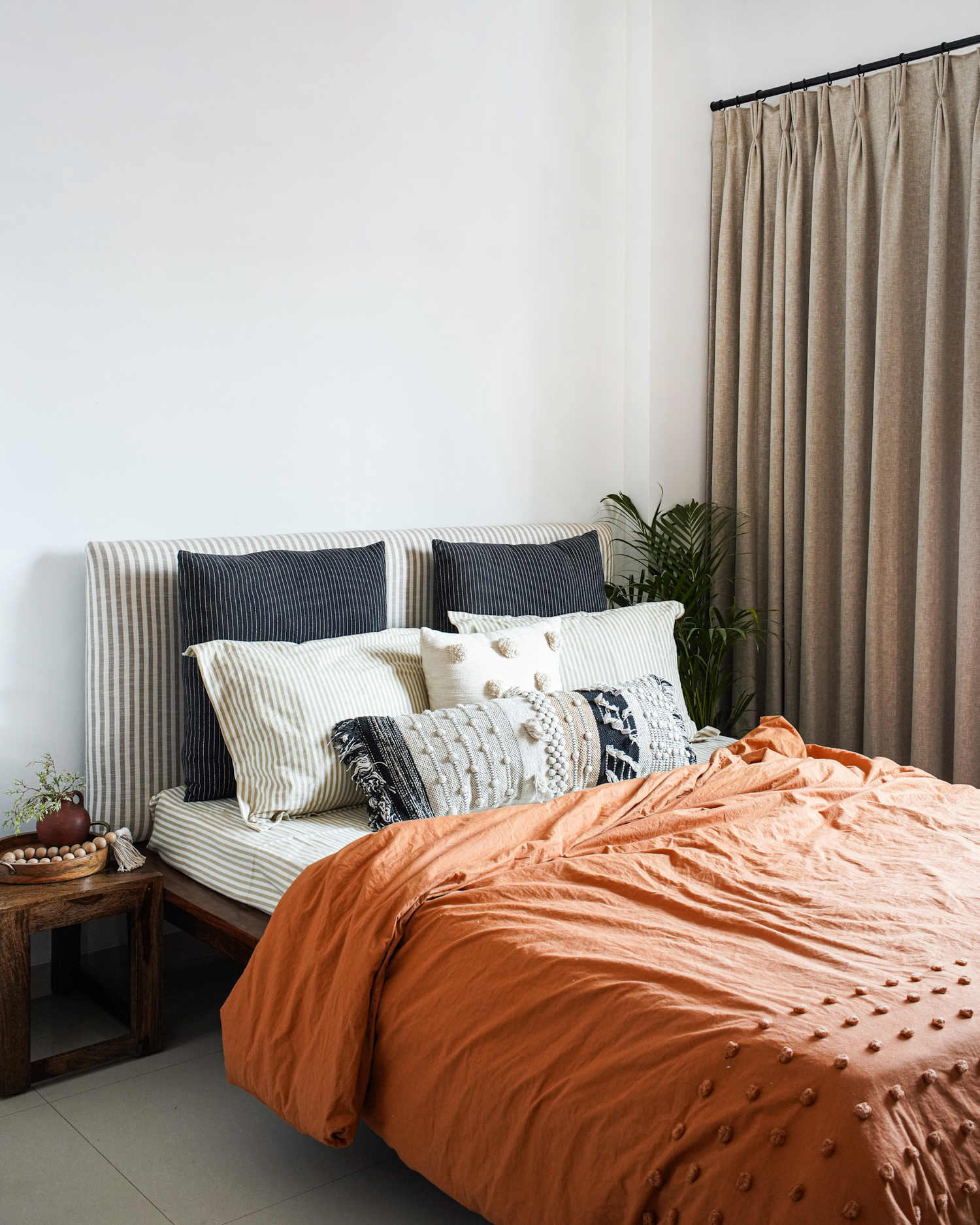 The sheer anticipation of all the colours you can possibly use to create any kind of mood for a room with white walls is something else all together! We knew we wanted the couple to have a little colour to their bedroom! We used beige curtains  and kept the headboard and the bedsheets in the same pattern and colour, we chose a duvet in a bright colour with a playful pattern and complemented it with black and ivory coloured cushions in various sizes and shapes to make the bed look cozy but put together at the same time. Our wooden side table goes beautifully with the bed and you can never go wrong with plants in a corner.
Lastly, we had this black cabinet with its beautiful gold accent handles placed right next to the door. All it needed was a couple of canvas artwork in different sizes and a wooden tray with a mud vase and a string of wooden beads from Altrove. It was so easy and fun to style!
We truly enjoyed doing up this house and turning it into a home for the Dhars', it complements the couple's personal choices, it's not just stylish and young but also cozy and inviting, exactly the way we thought it would be!