HOW TO CHOOSE THE RIGHT SIZE RUG FOR YOUR SPACE.
Finding the right rug for your space can dramatically change the entire look of your room and breathe life into it. However, finding the right size rug is key to creating a space that looks balanced and tied together.. Let us help you get a step closer to finding the perfect size rug for your home.
The Living Room
Living rooms are usually considered the focus of attention of most homes. So it's hardly a surprise that we'd want for them to look the part too! If your living room is of a considerable size, it's completely normal to go ahead with a large rug that runs along the length of the room and all of the furniture. Or you could place two rugs to create separate areas in the same room while also bringing the space together and making it look cozier.
There's a few ways of laying out your rug which will further help you decide the dimensions of the one you want to bring home. For an open concept space where there is no furniture against a wall, invest in a larger rug. Placing all your furniture on the rug, will help you define the seating area specifically and also unify the elements of the room. We call this the All legs on the rug layout.

Chances are, that you might have a wall that you have furniture up against. In this case, it's better to invest in a slightly smaller rug that allows you to place the front leg of your furniture pieces on the rug. It's versatile and allows the room to look spacious. You dont have to bother covering up a space you're never going to actually lay your eyes on, you know! We call this the Front legs on the rug

If you're short on space it's possible that the above two options might make your room look even cramped further. This is when you must invest in a rug that covers the dimensions that run along the inside of your seating area. This way your coffee table and any space between your furniture grouping is covered by the rug. We call this the Only coffee table on the rug layout. 
Regular price
From Rs. 51,000.00
Regular price
Sale price
From Rs. 51,000.00
Unit price
per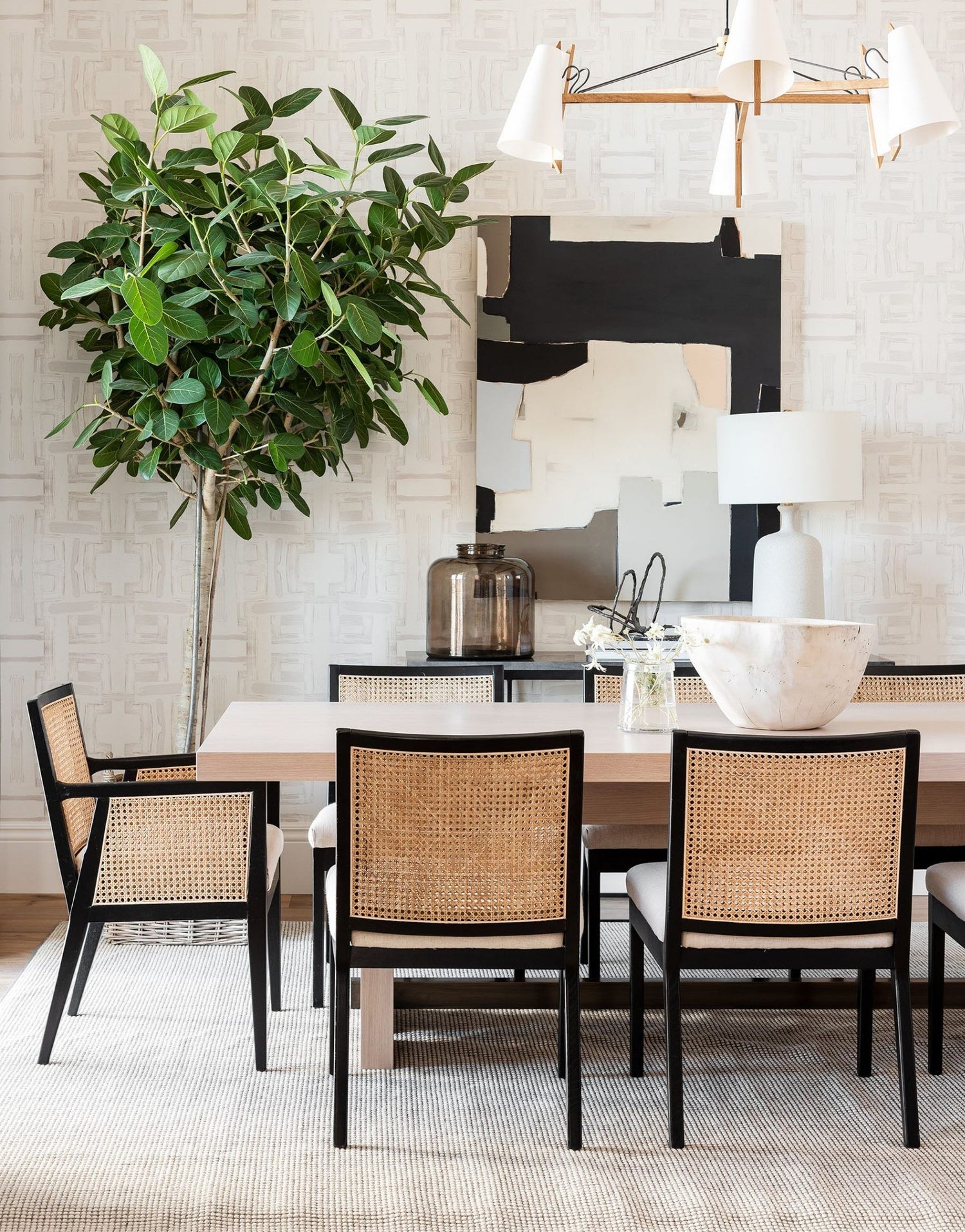 The Dining Area
The shape of your dining room and dining table play an important role when it comes to choosing the rug for this particular space. Whether you choose to go ahead with a rectangular or a circular rug, it's best to choose one that is big enough to accommodate the entire dining furniture set. Ideally the rug must extend upto at least two feet and no more than three feet beyond each side of the table so as to accommodate the chairs even when they're pulled out to avoid any mishaps due to uneven placement.
The Bedroom
Just like most other elements, the rug placement too, revolves around the bed, in the bedroom. After all, who doesn't want to get out of bed and have their feet land on something luxurious and soft?
Got your eyes on a large rug that you know would go splendidly with your room? Go ahead with the All legs on the rug style and have your bed, side table and ottoman stand on the rug. It's best that your rug extend upto two feet past the edge of the bed to avoid having it look awkwardly small. 

Another option for when you'd like to invest in a rug smaller is to leave out the side tables and the upper half of the bed and have the rest of the bed and your ottoman on the rug. This is especially great when you want to show off your newly done flooring but also not miss out on a rug.

A smart way of not covering up too much of your floor while also complementing it with a rug is to use runners on either side of the bed. These do not essentially have any furniture placed on them but are great at unifying the look of the room and making the floor space seem bigger.
Regular price

From Rs. 35,700.00

Regular price

Sale price

From Rs. 35,700.00

Unit price

per

Regular price

From Rs. 23,700.00

Regular price

Sale price

From Rs. 23,700.00

Unit price

per
Hallways and Foyer
A foolproof way of getting these narrow corridors in your home correct is to add runners to them and leave any furniture legs off the rug. This can help add a little life and colour to these often ignored spaces. Entryway rugs should be chosen after taking into consideration the length and shape of the room as well as the width of your door. Having the rug shift and pile into a mess every time someone opens the door can be frustrating, hence it's also important to check the pile height of the rug to avoid the same! 
It's completely possible that you have a rug lying right in front of your eyes that is just a tad small or big but still blends beautifully with your decor and you're aching to put it to good use. Layering to the rescue! Have fun with what you already have and lay a small textured rug on top of a larger plain rug to add more character to your space. As long as the colours and patterns don't clash entirely, you're still getting your money's worth, and probably more! 
Regular price

From Rs. 70,875.00

Regular price

Rs. 41,373.00

Sale price

From Rs. 70,875.00

Unit price

per

Regular price

From Rs. 65,271.00

Regular price

Sale price

From Rs. 65,271.00

Unit price

per

Regular price

Rs. 73,575.00

Regular price

Sale price

Rs. 73,575.00

Unit price

per